Products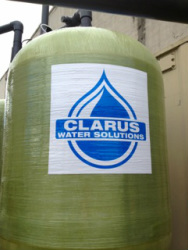 Filter33™
Designed to meet tough new NPDES benchmark standards,
Filter33™
is a granular adsorptive media that removes heavy and dangerous metals like: Copper, Zinc, Cadmium, Chromium, Lead, Mercury, and Nickel . Ionized metals in the water bond to active sites on the media. Systems designed with
Filter33™
actively remove contaminants without the use of additional flocculating agents, coagulants and pH adjustments.
Filter33™
bonds adsorbs metals even in the presence of acids making it a perfect candidate for simple industrial landfill because they regularly pass CAWET & TCLP tests.
Filter33™
is designed for flow rates from 2gpm to 2000gpm.
Filter33™
is successfully working right now in tough industrial environments, discharging clean water to streams and rivers.
---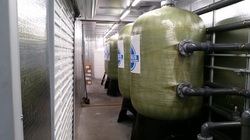 Filter26™
The iron killer, Filter26™ is a passive catalytic media that transforms dissolved iron into suspended iron. After the transition, the iron is easily captured using a Vipor or Sidewinder filter. The media is self- replenishing and does not need to be periodically replaced. Filter26™ removes contaminants without the use of additional flocculating agents or coagulants.
---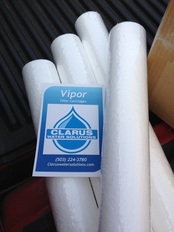 Vipor™
These filters have a fixed pore structure delivering high holding capacity and consistent performance. Vipor™
tubes come in a variety of sizes and options including various micron capacities from 1 to 100; core and no core styles; and lengths of 4 to 50 inches. These tubes are used for both Liquid/Solid Extraction (particulates, agglomerates and suspended solids) and Liquid/Liquid Extractions (hydrophobic polymers including oils and greases).
Vipor™
is a non-fiber releasing matrix and has a rigid filtration structure that will not compress as the differential pressure increases. Cartridge disposal is easy and safe
.
We offer a wide variety of housings to meet all of your fluid separation needs. Our housings are made to exacting standards and can be certified to ASME specifications. Whether it is a bag housing or cartridge housing, we can help with single or multiple carriages with a variety of construction materials and connection styles.
---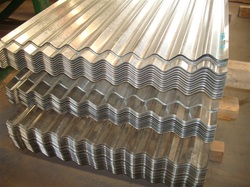 Roof Runner Filtration System
™
The Roof Runner Filtration Systems are specially designed for industrial building applications where metal roofs and down spouts are employed. The
Roof Runner
Filtration Systems are adaptable to any size metal roof or structure. The system attaches directly to our industrial client's existing downspouts for easy installation and maintenance. Contact us with your existing roof size and we can help you decide the system appropriate to your needs.
---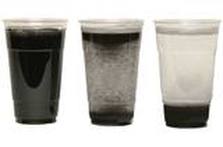 Zap-It™
Zap-it is an
electrocoagulation
system designed to seperate out suspended solids, heavy metals and oil and grease that filtration or chemical treatment cannot handle. The Clarus Zap-It system can process 5 to 400 gallons per minute with an average cost of approximately $0.003 per gallon, making it very economical. Our fully automated modular system requires no chemicals (other than pH balancing and NaCl) and requires no filters to clean or replace.
---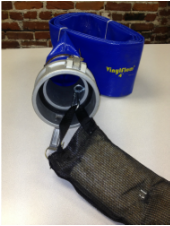 Site Clear™
Site Clear™ is a passive treatment for removal of sediment, suspended solids, particulate metals and FOG (fats, oils and greases) ballast, and dredging water treatment. It reduces the NTU from several thousand to less than five. The kit comes with a 5-foot tube filled with filtration material. The tube is clipped onto a flex hose on the discharge side of a pump and discharges to either a bio-filtration area, settling pond, settling tank, bag filter or alternative area. This product is designed for sites where there is not a lot of infrastructure, and in which filtration is needed without access to electricity. Flow rates range from 100 gpm to 400 gpm, depending on the needs of the site. One (1) lb. cartridge can treat 100,000 gallons of reasonably dirty water to 15 NTU or lower and the Site Clear™ kit can treat close to 1 million gallons. Each kit includes: Camlock fittings from 2"-4", nine cartridge socks, 4" flexible hose, the O&M manual, and a bag to carry it all.

---
Sand Shark™
Our high performance Sand Shark™ filter system couples a liquid polymer and sand filtration to remove total suspended solids from 500 NTU to 10 NTU or lower. Simply determine the dosage rate based on the TSS load and flow rate to determine the size of the turnkey system and let the automated system do the work. Flow rates range from 100 gpm up to 1,000 gpm. The engineered system includes: skid or container mounted sand filters, a polymer dosage system, in-line agitation, full automation with data tracking (pH, NTU, flow rate, etc.), and is capable of remote monitoring as well as on-site automated system operation. It requires collection pond(s) for retention and solids collection/thickening. How it works: The liquid polymer is a clear viscous solution, metered in at a 1-3 mg/L dosage (depends on efficacy and State approval). It precipitates and coagulates TSS, which is then trapped and removed in the sand filter on a discharge pump. Sand Shark™ has NPDES (National Pollutant Discharge Elimination System) approval by
the State of Washington Department of Ecology.

---